PWA NEWS 2019
GLITZ & GLAMOUR 400th WHEELCHAIR PRESENTED!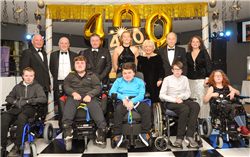 During an evening of "Glitz and Glamour", the Powered Wheelchair Appeal recently celebrated the donation of 5 wheelchairs including the milestone 400th to local deserving youngsters.

The celebration was held at Chester Racecourse on 23 November 2019 and around 230 guests attended a fun filled evening including a champagne reception, three course dinner, live musical entertainment from singer Jess Malone and band The Singles Table. There were also casino tables, raffles and a grand charity auction.

The highlight of the evening however was the presentation of 5 powered wheelchairs to;

1) Danny Griffiths aged 16 from Holmes Chapel
2) Kayla Sinnott aged 10 from Widnes
3) Charlie Horton aged 15 from Ashton Hayes
4) Liam Ashton aged 15 from Halewood
5) Alex Wareing aged 19 from Hunts Cross

2 further chairs were due to be presented to 5 year old Mia – Rose Birkenshaw from Warrington and Khalid Lafdel aged 12 from Malpas but unfortunately, both youngsters were ill and unable to attend on the night. They will however receive their chairs shortly.

The Appeal was delighted to welcome special guests on the night – actors Alison Steadman, Michael Elwyn and Emma Cunniffe and also England Ladies cricketer Sophie Ecclestone. Also from Helsby GC were Captain Roddy Snedden and President Peter Duffy to assist with the presentations. The excited youngsters were accompanied on the night by their families and friends and are all now very much looking forward to enjoying the independence their new powered wheelchairs will give them!

This celebration marked the end of a hectic year of fundraising which has enabled the presentation of the 400th chair.

They would like to pass on huge thanks to all the sponsors and supporters for being so generous with their time, donations and money, and a fantastic sum of £15,340 was raised on the night – Many thanks to all!




In the photo of the presentation group - at the back behind the children are from left to right are Helsby GC President Peter Duffy, PWA chairman Steve Cunniffe, Captain Roddy Snedden, cricketer Sophie Ecclestone, and actors Alison Steadman, Michael Elwyn and Emma Cunniffe.





MEGA DAY RAISES £3,002!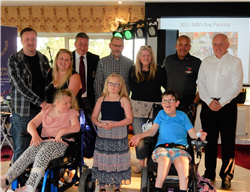 We recently hosted our 18th annual Merseyside Entertainers Golfing Association (MEGA) Day. After everyone had enjoyed a fine afternoon of golf, the highlight of the day was the presentation of powered wheelchairs to 2 local youngsters.

The first chair was presented to 10 year old Callum Starkey from Middlewich and next month he will start attending Hebden Green Special School. One of his favourite TV programmes is Britain's got Talent and he was delighted to be introduced to MEGA player Les Gibson who was in the final of the programme. Callum was accompanied by his dad, Andy and Mum, Helen.

The second chair went to 8 year old Lydia Shepherd from Warrington and she attends Green lane Special School. Lydia loves being in water and is enjoying learning to swim. With her on the day were her dad, Lee, her mum, Sarah and twin sister, Faye.

Both Callum and Lydia and their families are looking forward to the independence their new wheelchairs will provide.

Winners of the golf competition on the day were Garry Farrar, Paul Foster, Peter Clarkson and their MEGA player John Kenny and they were presented with their prizes by Helsby Captain, Roddy Snedden. The MEGA players have their own individual competition for the Tony Brutus Trophy and the winner was John Barnett and he received the trophy from longstanding supporter Keith O'Neil.

In the evening, the clubhouse was packed with members and supporters who enjoyed the great entertainment provided by the MEGA stars. It was a fantastic evening thoroughly enjoyed by everyone!

Thanks go to all our supporters and the MEGA team who helped raise £3,002 for the Appeal.

We are now looking forward to presenting our 400th Powered Wheelchair at a special Glitz and Glamour Ball on Saturday 23rd November 2019 at Chester Racecourse. If you would be interested in attending the Ball, please put the date in your diary and let our secretary know by email on poweredwheelchairappeal@gmail.com.

We are also looking for sponsors of the event & donations of auction and raffle prizes. Again, if you would like to help, please contact our secretary, Penny Ainsworth.

CAPTAIN'S CHARITY DAY RAISES £4,036!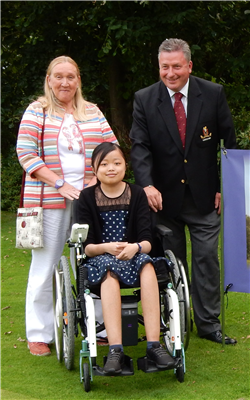 Our Captain Roddy Snedden hosted a fundraising day recently for the Powered Wheelchair Appeal. It was a golf competition with teams of 4 followed by a meal in the clubhouse and then great entertainment by a comedian.

The highlight of the day though was the presentation of a powered wheelchair to 18 year old Poppy Farrell from Middlewich.

This was the 390th wheelchair presented by the Appeal and the second for Poppy as she received her first one 4 years ago but since then has outgrown it. Poppy has just finished attending Sandbach High School and in September is going to study Accounting at York University. She is an animal lover with 6 cats and 3 dogs and is currently learning to drive.

She loved using her previous wheelchair and this enabled her to complete her Duke of Edinburgh Gold Award recently which she did with the help the sunshine Club of Great Britain. In fact, she was so grateful for their support, that she donated her old wheelchair to them for someone else to use - Recycling at its best!

Poppy spoke on the night and told us that having a powered wheelchair has changed dramatically both the lives of her and her mum and given her independence and freedom which she had never imagined.

We wish Poppy all the best in the next stage of her life and we are grateful for the support we have been able to give to such a strong, determined individual - she will go far and we look forward to hearing about her progress!

The golf winners on the day were - Captain, Roddy Snedden, Mal Aird, Tommy Farr and Graham Cheesebrough with 98 points but it was close as they won in a card playoff over Kieran McCabe, Dennis Dean, Jon Maddocks and Matt McCabe.

Many thanks go to all supporters who raised a fantastic amount of £4,036 for the Appeal.
PWA Classic raises £15,000!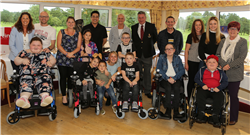 Following several days of prolonged heavy rain, Helsby Golf Club managed to hold their annual golfing "Wheelchair Classic" charity fundraiser. Despite unseasonally wet conditions and as a result of fantastic work round the clock by the Club greens staff and volunteers, the competition was held over 16 holes. Approximately 120 golfers took part in the competition, dried off and then enjoyed a meal back in the clubhouse!

Undoubtedly the highlight was the presentation of 5 wheelchairs in the evening to deserving local youngsters.
Finally a raffle and charity auction took place and a fantastic total of just over £15,000 was raised on the day for the charity!

The wheelchairs were presented to –
• Courtney Pownall aged 16 from Birkenhead
• Jade Chan aged 7 from Crewe
• Archie Harrop aged 7 from Crewe
• Gemma Conery aged 15 from Ashton Hayes
• Charlie Wilson aged 12 from Ormskirk

The youngsters were joined on the night by their parents, family and friends and the presentation of the chairs brings the total for the appeal to 389.

Golfing honours on the day for the gents were Nigel Cunniffe and Charlie Storey and for the ladies, mother and daughter duo, Kath and Julia Wilkinson.

The Powered Wheelchair Appeal would like to thank the main event sponsor Jigsaw Law and the Ellesmere Port Lions for their hole sponsorship. Once again many thanks go to all their supporters and local businesses for their generosity and helping to raise such a fantastic amount – THANK YOU!!

PWA - AGM held on 7 March 2019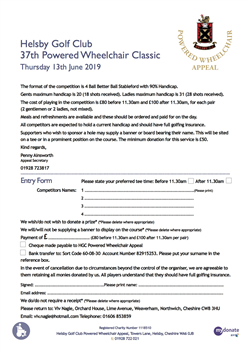 30 supporters, including the Captain and Lady Captain, attended the PWA AGM including the presentation of the report and accounts for 2018/19 by Chairman Steve Cunniffe.

We had another successful year raising £38,339 and presenting 12 powered wheelchairs, with a value of £42,125, to deserving local children. As usual, our expenses were kept to a minimum at £221.

The members appointed Alex Walters and Howard Pay as trustees for a further 3 years.

Included in the report was a message from Peter Alliss:
"This is a message just to wish you all well. Over the years you and your Club have been the most amazing supporters of the Wheelchair Crusade. I can't thank you enough on behalf of all the young people you've helped. Once again, all the best for the rest of the year – you're a very special group of people. Jack- ie joins me in sending all good wishes, Peter"

There were also a number of 'thank you's' from the children:

"I am writing this as a thank you to Helsby Golf Club members for their fantastic work with helping children gain their independence, by providing funds for their power wheelchairs. My son's new power chair will give him so much more inde- pendence and more comfort with the extra things he cannot get from the NHS. He is so thankful to the Helsby Golf Clubs members. Kay"

"Thank you very much for your support and donation towards my new wheels. You have made me very happy and I shall always remember your kindness, Carys"

"Thank you so much for helping us achieve our goal and providing Tom with his independence. With love Tony, Jan, Mike & Tom"
Steve thanked all our fantastic supporters and those who have helped throughout the year to make it possible for us to improve the lives of so many children.
???
??

PWA Race night - a roaring success & 384th chair!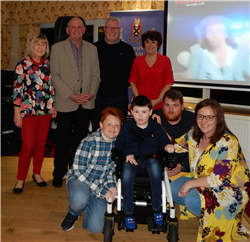 We recently hosted our first exciting Race Night as a Spring fundraiser for the Powered Wheelchair Appeal. It was a fun night with around 100 supporters enjoying the thrills of the on screen racing, some betting and a delicious supper!

The highlight of the evening though was undoubtedly the presentation of the 384th wheelchair to 7 year old Jack Morris from Liverpool. Jack was accompanied on the night by his parents; Laura and Chris and brother Alex. He attends Millstead Special School in Everton where he enjoys swimming in the hydrotherapy pool. He supports Everton FC and recently had the pleasure of meeting one of their players Andre Gomes at his school.

Appeal trustee, Alex Walters, presented the chair to Jack and there was an extra surprise as Alex also presented him with a signed Everton shirt and photos – Jack and all his family were thrilled as they are all Everton supporters!

Jack and the family are all now looking forward to the independence his new chair will bring.

A fantastic sum of £1,926 was raised on the night – this will go towards the next wheelchair.

This brings the total number of chairs issued by the Appeal to 384 and there are many fundraising activities ongoing this year in a push to raise enough funds to reach the 400th chair! Any offers of support with ideas, donations, raffle and auction prizes will be much appreciated and please contact our secretary on poweredwheelchairappeal@gmail.com

The photo shows back row from left to right – Barbara Prince (Immediate past Lady Captain), Peter Duffy (President), Alex Walters and Viv Nagle (Trustees of the Powered Wheelchair Appeal)
Front – Alex, Jack, Chris and Laura Morris

PWA AGM - 7 MARCH 2019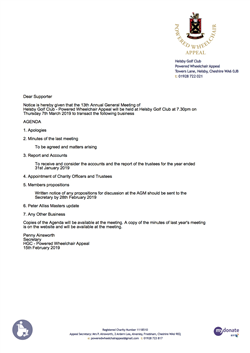 Please feel free to join us for the 13th annual AGM of the Powered Wheelchair Appeal in the clubhouse on Thursday 7th March 2019 at 7.30pm. You will hear about another successful year for the Appeal in 2017.
PWA present 383rd chair!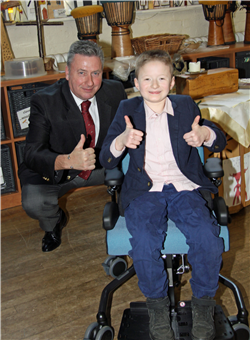 The Powered Wheelchair Appeal recently had the pleasure of presenting their 383rd chair at Kingsley St Johns School near Frodsham.

The chair went to 8 year old Zac Owen who was accompanied by his parents and brother Jake. He also has a twin sister Hannah who unfortunately was not able to make the presentation.

Zac also attends Hebden Green Special School and Stick n Step in Runcorn. It was a busy week for him as the evening before, along with other pupils from the school, he had been to Manchester Arena to take part in Young Voices. Young Voices stage children's choir concerts at Arenas all over the country. Each night, between 5,000 and 8,000 children perform as a single choir to a sell out audience of family and friends.

His fellow pupils and teachers at St Johns School held a "dress down" day and a cake sale and raised £120 for the Powered Wheelchair Appeal. Also Zac's mum donated £100 so these monies will go towards the fundraising for the next chair to help another local deserving youngster.

Zac and his family are looking forward to the independence his new chair will bring and thanks to everyone who supports our fundraising. For any information or offers of support for the Appeal, please contact Penny Ainsworth on poweredwheelchairappeal@gmail.com

The photo shows Zac in his new chair with the Captain of Helsby Golf Club Roddy Snedden

Chinese Fundraiser Evening - 20th January 2019
The Powered Wheelchair Appeal recently held their annual fundraising Chinese Banquet evening at the Fortune Palace in Delamere Forest. Around 100 club members, friends and supporters attended and saw the 382nd chair presented to 12 year old Emily Jayne Coulthard from Morecambe.

Emily received a wheelchair from the Appeal 6 and a half years ago and since then has loved using the chair but has now outgrown it. She attends Our Ladies Catholic College in Lancaster and when not at school, she enjoys Wheelchair Basketball and swimming and her sporting hero is Paralympic swimmer Ellie Simmonds. Emily was accompanied on the night by her parents John and Janet and brother James and is looking forward to the further independence her new chair will bring.

Joining us also on the night were the President of the Ellesmere Port and District Lions, Margaret Marsh and 2 committee members Malcolm and Rob. The Lions are great supporters of the appeal and it was good to have them with us.

We were also delighted to welcome on the night Nicola and Andrew Bird and their twin sons Justin and Tristan. Justin received a chair from us back in 2006 and it has made an enormous difference to his life and since then, he has gone from strength to strength. The Bird family once again thanked everyone connected with the appeal for their support which has made such a difference to all their lives.

After the presentation of the chair, we enjoyed another great banquet provided by Pat and her restaurant staff. Members and friends took part in a quiz, enjoyed a raffle, resulting in a total of just over £1,000 raised on the night – this included a donation from Pat and the Fortune Palace team. Thank you to all our supporters for helping us to raise this fantastic amount, we are all very grateful!

Our next fundraiser is a Race night in the clubhouse on Saturday 2nd March – if you would like to join us or have any ideas to support us, please contact us on poweredwheelchairappeal@gmail.com

Photo shows back left to right – Helsby Golf Club Lady Captain Barbara Prince, brother James, Mum Janet and Dad John Coulthard, Club President Peter Duffy, Captain Graham Poland,and PWA committee member Roddy Snedden.

2019 Fundraising Challenge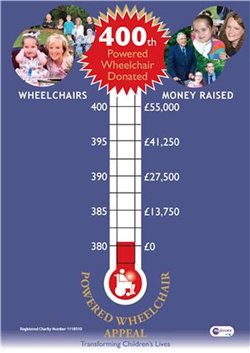 In 2019, we are hoping to raise sufficient funds to be able to present our 400th powered wheelchair at a very special Glitz & Glamour evening to be held at Chester Racecourse on 23rd November 2019.

To enable that, we need to raise £55,000 between now & then so any help or ideas from our supporters will be most welcome - please contact poweredwheelchairappeal@gmail.com

Please help us to reach our 400th wheelchair!