PWA News 2017
Wheelchair Black & White evening (2 December 2017)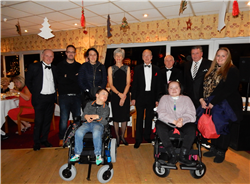 Helsby Golf Club's Powered Wheelchair Appeal recently held their annual Black and White evening. There were around 100 Appeal supporters who followed the dress code of black, white and a touch of red and they enjoyed an evening of great food, drink and music. However the undoubted highlight of the evening was the presentation of three powered wheelchairs to local deserving youngsters.

The presentation party photo shows Alfie Richards, aged 6 from Colwyn Bay and Jasmine Beadles, aged 15 from St Helens with their families. Also on the back row are the Powered Wheelchair Chairman Steve Cunniffe, Lady Captain Gill Smith, Captain Neil Johnson, President Jim Potter and Master of Ceremonies Roddy Snedden.

A third wheelchair was also presented to 3 years old Vance Parker from Weaverham. On the night Vance was fascinated by the Christmas tree and missed the official photos but he had a good time anyway!

The presentation of the chairs brought the total to date to 368 and a raffle on the evening raised £700 for the Appeal. Thanks go as always to our fantastic supporters - we couldn't do it with you!!

Glitz & Glamour at Chester Racecourse (9th September 2017)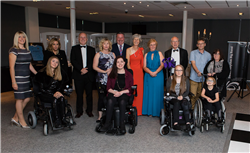 Helsby Golf Club Powered Wheelchair Appeal hosted a fantastic fundraising night of Glitz & Glamour at Chester Racecourse at the weekend.

The event was extremely well attended by members of Helsby Golf Club and many supporters of the Powered Wheelchair Appeal.

Three powered wheelchairs were presented to local youngsters on the night - they were Natasha Boothman from Frodsham, Ariella Burn from Bebington and Amy Warburton from Macclesfield. They were joined on the evening by their families and friends and Helsby Golf Club Captain - Neil Johnson and Lady Captain Gill Smith presented the chairs which will allow the youngsters much more independence.

There was a champagne reception, followed by a delicious meal, and the entertainment included a table magician, a charity casino and a live band. A photo booth was also there for some fun photos of the evening! Overall a fantastic sum of £7,400 was raised by way of raffle, and charity auction.

Many thanks to Claudia Dickens of Keedays events and the committee of the Appeal for the organising and naturally a huge thanks goes once again to all of our fantastic supporters - we really appreciate your generosity!

Photo by Martin Pawlett photography
Another brilliant MEGA Day (2nd August 2017)
The Powered Wheelchair Appeal at Helsby GC recently hosted their 16th Merseyside Entertainers Golfing Association (MEGA) Day. After everyone had enjoyed a fine afternoon of golf, the highlight of the day was the presentation of Powered Wheelchair Appeal wheelchairs numbered 361 and 362.

The first chair was presented to 14 years old Imogen Byrne from Stone. When not at school, Imogen enjoys horse riding, swimming and reading.

The second chair went to 11 years old Yasmin Watkins from Trentham and she, like Imogen enjoys horse riding, swimming and taking her dog for a walk.

Both girls were accompanied on the night by their families and are looking forward to the independence their new wheelchairs will provide.

Winners of the golf competition on the day were Dave Faulkner, Dave Carr and Steve Blake together with their MEGA player Garry Riley.

In the evening, the clubhouse was packed with members and supporters who enjoyed the great entertainment provided by the MEGA stars. It was a fantastic evening thoroughly enjoyed by everyone!

Thanks go to all our supporters and the MEGA team who helped raise £2,238 for the Appeal.



Photo shows Imogen, Yasmin and their families and at the back from left – Helsby President Jim Potter, Lady Captain Gill Smith, PWA committee member Roddy Snedden and Captain Neil Johnson.

Annual Powered Wheelchair Classic (8th Jun 2017)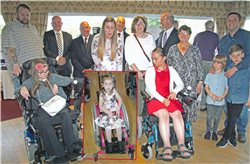 On a bright sunny June day, Helsby hosted their annual fundraising "Wheelchair Classic" charity fundraiser. There was a golf competition with approximately 160 players, a meal and then the highlight was the presentation of wheelchairs in the evening to deserving local youngsters. Finally a raffle and charity auction took place and a fantastic total of around £16,000 was raised on the day!

The wheelchairs were presented to –

Sophia Flood aged 5 from Northwich

Lily Wakeling aged 15 from Heswall

Bethany Kelly aged 16 from Uttoxeter

The youngsters were joined on the night by their parents, family and friends.

There was a plan to also present a further 2 wheelchairs to Leo Bailey Heath aged 7 from Werrington, Stoke on Trent and Ariella Burn aged 14 from Bebington, Wirral but unfortunately Leo and Ariella were ill and therefore unable to attend.

Golfing honours on the day for the gents were Messrs Pearson and Dougal and for the ladies, mother and daughter duo, Anne and Karen O'Neil.

The Powered Wheelchair Appeal would like to thank the main event sponsor Jigsaw Law and the Ellesmere Port Lions for their hole sponsorship.

Once again many thanks go to all their supporters and local businesses for their generosity and helping to raise such a fantastic amount – THANK YOU!!
Spring Dance Presentation (22nd April 2017)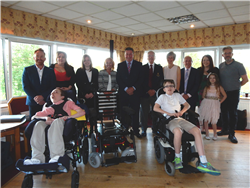 Supporters of the Appeal recently enjoyed a Spring dance in the clubhouse and the highlight was the presentation of our 355th and 356th chairs to two more deserving youngsters.

The first chair was presented to 17 year old Lloyd Humphries from Stoke on Trent who is quadriplegic and registered blind. Lloyd attends Blackfriars Academy in Bucknall where he enjoys rebound therapy on a trampoline and going in the hydrotherapy pool. He loves music and listening to aquatic sounds and music therapy.

The second chair was presented to 11 year old Zac Maltby from Widnes. Zac attends Lunt's Heath primary school where he is road safety officer and reading buddy. He loves animals especially sea creatures and his favourite sports person is Usain Bolt.

Both boys were accompanied by their families and carers, and they are all looking forward to the independence the powered wheelchairs will give them.

After the presentations, the supporters enjoyed a meal and entertainment by a musician. There was a raffle and a total of £614 was raised on the night. Many thanks once again to everyone who attended – the ongoing support for the appeal is much appreciated!

Photo shows – front left, Lloyd Humphries and right Zac Maltby
Back row are Lloyd and Zac's families and carers. Centre is Roddy Snedden from the Powered Wheelchair Appeal and Captain Neil Johnson, Lady Captain Gill Smith and President Jim Potter.
2017 PWA AGM (7th Mar 2017)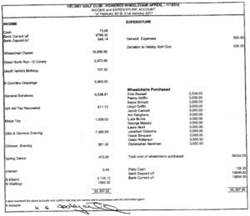 The 11th Annual General Meeting of Helsby Golf Club's Powered Wheelchair Appeal was held in the clubhouse on Tuesday 7th March 2017.
Chairman, Steve Cunniffe welcomed the Captain of Helsby Golf Club, Neil Johnson and his wife Anne and the supporters of the Appeal. The minutes of the last meeting were approved and signed and Steve then gave a presentation on the fundraising events that were held throughout 2016.
A grand total of £57,611 was raised which made it the best ever year for fundraising for the Appeal and 13 powered wheelchairs were presented bringing the total to 354 over the last 33 years!
Steve thanked all the supporters who had raised funds for the Appeal in many different ways including:
Our main fundraiser the Annual Wheelchair Classic raised £16,570
Claudia Dickens and Keith O'Neil who organised a new event in our calendar the "Glitz and Glamour" ball which raised £7,066
Donation by Neville Wellings of Bromborough Paints – £7,000
Sue Kibberd who organised a fundraising day at her work and raised £3,154
Donation from META via Roddy Snedden – £3,000
Gavin Conery who raised sponsorship monies of £2,974 by doing the Great North Run
Steve was also thanked for his fantastic "Golf in 6 counties in one day" event which raised a massive £9,600 – an amazing feat and a memorable part of Steve's year as Captain of Helsby GC!
The audited annual accounts for the period ended 31st January 2017 were reviewed and unanimously approved
The following Officers and Trustees of the charity were re – elected for a period of 3 years
Mr Steve Cunniffe – Chairman
Mrs Barbara Prince – Treasurer
Mr Bert Dyson MBE – Trustee
Mrs Sheila Fenwick – Trustee
Mrs Viv Nagle – Trustee
Mr Roddy Snedden – Trustee
Steve concluded his presentation by thanking all those members and friends who have supported the Appeal over the last 12 months. Without their help and generosity we would not be able to improve the lives of so many children with special needs giving them some independence and quality of life.
Ray Feldwick then gave a short presentation on the work of the Peter Alliss Masters Golfing Society (PAMGS) over the last 12 months. He highlighted that Helsby GC is still the greatest contributor of chairs and thanks were extended by PAMGS to Helsby GC for their continuing support.
Chinese Banquet Evening (15th Jan 2017)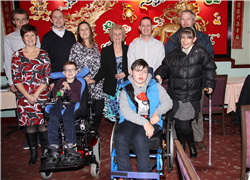 The Powered Wheelchair Appeal donate 2 more chairs at their annual Chinese Banque

We recently held another fantastic fundraising Chinese Banquet evening at the Fortune Palace in Delamere Forest. Around 80 club members, friends and supporters attended and two children were presented with powered wheelchairs at the event, Chris Hardman from Ormskirk aged 13 and Owen Rollerson from Stoke on Trent, aged 15. The chairs presented at this event increased our total to date to 354!

Chris was accompanied on the night by his parents and brother and he attends the Sir Tom Finney School where he enjoys playing football. Away from school he enjoys the outdoors, bowling and supports Everton FC.

Owen was also joined by his parents and attends Moorside High School where he runs the Environment team. He plays wheelchair basketball and enjoys time with his 3 dogs and playing Pokemon video games.

Both boys and their families are looking forward to the independence their chairs will allow.

Also during the evening there were cheque presentations by two supporters of the Appeal. Firstly, Suzanne Kibberd from Chester organized a charity day at her workplace – Lloyds bank. She and her colleagues raised £1,577 and her employers matched this and she presented the Appeal with a cheque for £3,154. Secondly Gavin Conery – he is the father of Gemma who received a wheelchair from the Appeal in 2015 and seeing the difference it made to their lives, challenged himself to raise funds for us. He ran the Great North run and raised £1,973 and his employers Morrisons donated a further £1,000 and he presented a cheque for £2,973. The monies so kindly donated by Suzanne and Gavin funded the purchase of the chairs presented to Chris and Owen.

After the presentation of the chairs, we enjoyed another superb banquet provided by Pat and her restaurant staff. Members and friends took part in a quiz, enjoyed a raffle, resulting in a total of £881 raised on the night – this included a donation from Pat and the Fortune Palace team. Thank you to all our supporters for helping us to raise this fantastic amount, we are all very grateful!

Photo shows back left to right – Ben Hardman, Stephen Hardman, Suzanne Kibberd, Lady Captain Penny Ainsworth, Gavin Conery, Adam Rollerson,
Front left to right – Natalie Hardman, Chris Hardman, Owen Rollerson, Dawn Rollerson