PWA News 2018
PWA - Black & White evening - Saturday 1 December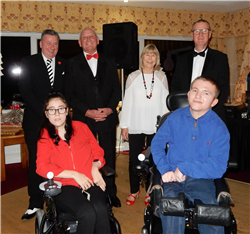 We recently hosted a Black and White social evening in the clubhouse and friends and supporters enjoyed good food and entertainment but as always the highlight was the presentation of 2 more Powered wheelchairs to deserving local youngsters. This brings the total number presented by the Powered Wheelchair Appeal to 381.

The first wheelchair was presented to 15 year old Caitlin Allan from Southport. Caitlin attends Range High School in Formby where she enjoys drama and swimming. She also attends Stick n Step on the Wirral where she heard about the Powered Wheelchair Appeal from some of her friends who have had chairs from us in the past, which have increased their independence.
Caitlin was accompanied on the night by dad John and grandma Agnes.

The second wheelchair was presented to 18 year old Jake Hesp from Nantwich. Jake attends Hebden Green School and loves using his computer and anything to do with technology. He was accompanied on the night by Mum, Alison and Dad Ian.

A raffle was held and the evening raised £537 towards the Appeal's fundraising.

The Powered Wheelchair Appeal is now gearing up for a busy fundraising year as they have a target of £55,000 to raise which will enable them to present their 400th wheelchair at a Glitz and Glamour evening at Chester racecourse on Saturday 23 November 2019. If you would like to help us by attending the evening or provide any other support or have any fundraising ideas, we would be delighted to hear from you – please contact poweredwheelchairappeal@gmail.com

The photo shows the 2 youngsters with on the back row from left to right – PWA Committee member Roddy Snedden, Club President Peter Duffy, Lady Captain Barbara Prince and Captain Graham Poland.


PWA - Fashion Show 12 November 2018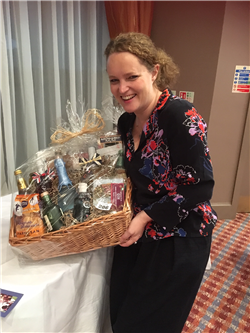 The Powered Wheelchair Appeal tried something new recently - we held a fashion show run by "Colours Fundraising Fashion" at Forest Hills Hotel in Frodsham on 12 November 2018.

It was great to see around 110 supporters on the night and they enjoyed a welcome glass of prosecco and then a fashion show. After the show, there was the opportunity to buy discounted high street clothes and a raffle.

Many thanks to everyone who supported us on the night and we managed to raise a fantastic sum of £1,500 which will go towards another wheelchair for a local deserving youngster. A big thank you also to the team at Forest Hlls for their generosity and support.

The photo shows Emma Cunniffe, the lucky winner of an amazing gin hamper which was the main raffle prize on the night - she was delighted with it!!


PWA - Peter Alliss Masters - September 2018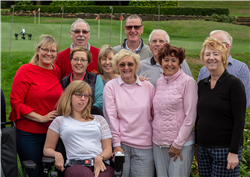 Supporters of the Peter Alliss Masters Powered Wheelchair Crusade recently enjoyed their annual Tournament at Old Thorns Golf Club in Hampshire. They were very fortunate to have good weather for the golf tournament and powered wheelchair presentations.

The event started with the Practice day and 'welcome' dinner before the main events on the second day. The Tournament was an individual Stableford competition played in four balls with a shotgun start.

Everyone then got together on the lawns for the presentations of the powered wheelchairs followed by the Tournament Banquet in the evening. This included the announcement of the winners, auctions and entertainment from after dinner speakers.

The golfing honours on the day went to Keith Ainsworth from Helsby GC with a score of 36 points and for the Ladies, Linda Malkin from Tytherington GC with a score of 35 points.

10 powered wheelchairs were presented at the event and these included one from Helsby GC Powered Wheelchair Appeal. This was presented to Nina Collins from Congleton who was accompanied by her mum, her dad and her sister.

A great time was had by all and congratulations to Keith and Linda on their wins!


Photos courtesy of Burlison Photography – they show the presentation of Nina's chair with the Helsby GC Powered Wheelchair Appeal committee.
PWA - Black & White evening - Saturday 1 December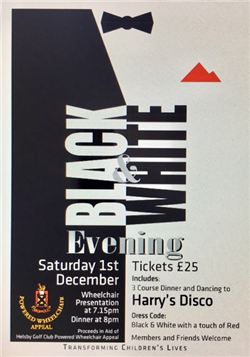 Our next PWA fundraiser is a Black and White evening in the Clubhouse on Saturday 1 December 2018.

It promises to be another great evening with good food and entertainment and the highlight will be the presentation of another wheelchair which will transform the life of a deserving youngster.

Why not join us - contact poweredwheelchairappeal@gmail.com for more details.
PWA - Fashion Show and Pop up Shop - 12 November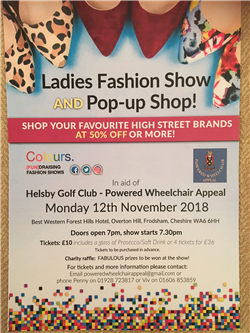 Why not join us for our next Powered Wheelchair fundraiser - a Fashion Show and Pop up Shop at Forest Hills Hotel, Frodsham on the evening of Monday 12th November 2018.

Tickets cost £10 and include a glass of prosecco or bring along some friends and the cost is £36 for 4 tickets!

It promises to be a great evening so please email poweredwheelchairappeal@gmail.com if you would like to join us and help raise funds to transform the lives of local deserving youngsters.
PWA - MEGA day 8 August 2018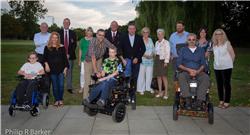 On a hot summers day, we were delighted to host our 17th Merseyside Entertainers Golfing Association (MEGA) Day and once again it was a fantastic day!
After everyone had enjoyed a fine afternoon of golf, the highlight of the day was the presentation of powered wheelchairs to 2 local youngsters.
The first chair was presented to 10 year old Isabella Gray from Liverpool. When not at school, Isabella enjoys scouts and following Liverpool FC. Isabella was accompanied on the night by her mum Paula.

The second chair went to 14 year old Tom Gate from Rostherne near Knutsford. When not at school, Tom enjoys country living, visiting his friends' local farm, where he has a passion for tractors and helping with the animals. With him on the night were his dad Tony and mum Jan. Tom's condition is complex and his new chair helps him to stand up and lie down to relieve some of his symptoms. The chair was very expensive, costing over £21,000. Also there on the night were farming friends Dominic and Jo representing the local villagers as they were instrumental is raising over £10,000 to help with the chair. The Appeal was also pleased to welcome Jane Harris from The Steve Morgan Foundation who very kindly donated £4,000 towards the chair. Tom's brother, Mike, also raised funds by completing the 3 Peaks Challenge and the Powered Wheelchair Appeal contributed the remainder of the funds. Tony and Jan would like to thank all those who contributed towards Tom's fantastic new chair which will make such a difference to his life.

Both Isabella and Tom are enjoying the independence their new wheelchairs are providing.

Winners of the golf competition on the day were Captain Graham Poland, Glenn Makin, Al Griffiths together with their MEGA player Brian Kramer.

In the evening, the clubhouse was packed with members and supporters who enjoyed the great entertainment provided by the MEGA stars. It was a fantastic evening thoroughly enjoyed by everyone! Thanks go to all our supporters and the MEGA team who helped raise £2,300 for the Appeal. Thanks also to Phil Barker for taking photos.

SAVE THE DATE! - We are now looking forward to 2019 when we are going to present our 400th Powered Wheelchair at a special Glitz and Glamour Ball on Saturday 23rd November 2019 at Chester Racecourse. If you would be interested in attending the Ball, please put the date in your diary and let our secretary know by email on poweredwheelchairappeal@gmail.com. We are also looking for sponsors of the event & donations of auction and raffle prizes. Again, if you would like to help, please contact our secretary, Penny Ainsworth.

George Makey 'Bible' presented to Helsby GC (Jun 2018)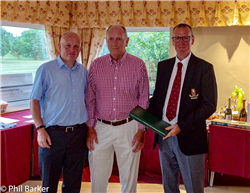 The binder affectionately referred to as 'George Makey's Bible' - which records his correspondence and reports from the early years of the crusade - was recently presented by Ray Feldwick on behalf of the Peter Alliss Masters to Steve Cunniffe, HGC PWA Chairman, and Graham Poland, HGC Captain, in accordance with George's wishes and in recognition of Helsby Golf Club's extraordinary contribution over many years.
The document is to take pride of place in the club's Trophy Cabinet.
You can also view it by going to
www.peterallissmasters.org
clicking on the tab
'Our Purpose'
and selecting
'George Makey's bible'.
PWA - Wheelchair Classic 7 June 2018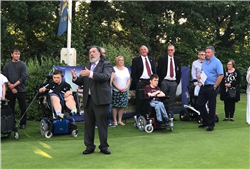 On a hot sunny June day, Helsby Golf Club held their annual fundraising "Wheelchair Classic" charity fundraiser. There was a golf competition with approximately 160 players, a meal and then the highlight was the presentation of wheelchairs in the evening to deserving local youngsters.

Actor Ricky Tomlinson was on hand to present the chairs and much laughter was had as you can imagine!
Finally a raffle and charity auction took place and a fantastic total of just over £18,000 was raised on the day!

The wheelchairs were presented to –
• Declan Maynock aged 18 from Holmes Chapel
• Charlie Holmes aged 4 from Stone
• Freya Boothman aged 8 from Frodsham
• Bethany Stocker aged 16 from Anderton, Northwich
• Connor Webb aged 16 from Widnes

The youngsters were joined on the night by their parents, family and friends and the presentation of the chairs brings the total for the appeal to 376.

Golfing honours on the day for the gents were Steve Cunniffe and Rordan Douse and for the ladies, mother and daughter duo, Kath and Julia Wilkinson.

The Powered Wheelchair Appeal would like to thank the main event sponsor Jigsaw Law and the Ellesmere Port Lions for their hole sponsorship. Once again many thanks go to all their supporters and local businesses for their generosity and helping to raise such a fantastic amount – THANK YOU!!

The photo shows the wheelchair presentation party including Ricky Tomlinson, the youngsters and their families, Powered Wheelchair Chairman Steve Cunniffe, Club President Peter Duffy, Captain Graham Poland and Lady Captain Barbara Prince.

PWA SPRING DANCE - Saturday 17th March 2018
The Powered Wheelchair Appeal held their first fundraiser of the year, a Spring Supper evening on Saturday 17th March at Helsby Golf Club.

The new President Peter Duffy, Captain Graham Poland and Lady Captain Barbara Prince presented a wheelchair to Carys from Chester who attended with her mum and Claire the educational coordinator from her school. The chair was fitted with special E Powered Wheels to help Carys self propel when she needs them. Carys then presented a card thanking Helsby Golf Club for their "support and donation towards my new wheels. You have made me very happy and I will always remember your kindness" Carys is a very lively youngster who will have a go at anything, enjoying horse riding and swimming and in her quieter moments, reading and history. She is looking forward to the independence her new chair will give her.

Carys and her mum would also like to thank the Steve Morgan Foundation for their contribution towards her new 'wheels'.

During the evening, everyone enjoyed a 2 course supper and was well entertained by the fantastic soul band Soulvation. Approximately £500 was raised on the night and this will go towards the next powered wheelchair for another deserving youngster.

The Appeal would like thank all their supporters once again for their fantastic support!

Bottle tombola donations wanted!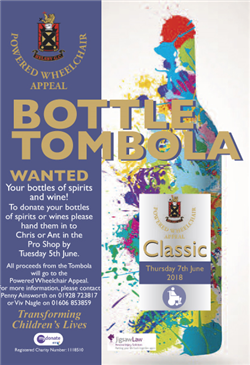 Do you want to help with the fundraising for the PWA? - we are looking for donations for the Classic Golf day on 7 June - thanks!
NOTICE OF PWA AGM - THURSDAY 8TH MARCH 2018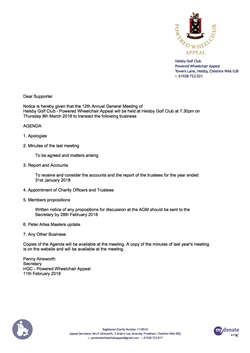 The PWA will hold their 12th annual AGM at Helsby Golf Club on Thursday 8th March 2018.

Why to come along to hear about the fantastic work the Appeal did in 2017 - all supporters are welcome.
PWA Spring Dance - Saturday 17th March 2018
The Powered Wheelchair Appeal are pleased to be hosting their annual Spring Dance in the golf clubhouse at Helsby on Saturday 17th March 2018 and as usual, all supporters are welcome!

The evening will include a wheelchair presentation followed by a supper and fantastic music by the Soulvation band.

The list is now available on the social noticeboard in the clubhouse or for any further information please email poweredwheelchairappeal@gmail.com

We hope you can join us!
2 wheelchairs presented at Chinese Banquet evening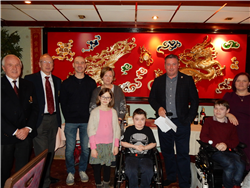 The Powered Wheelchair Appeal recently held another fantastic fundraising Chinese Banquet evening at the Fortune Palace in Delamere Forest. Around 95 club members, friends and supporters attended and two children were presented with powered wheelchairs at the event, Matthew Beautyman from Warrington aged 11 and Dillon Healey from Northwich, aged 13. The chairs presented at this event increased our total to date to 370!

Matthew was accompanied on the night by his foster mum, Michelle. He attends Bewsey Lodge Primary School School where he enjoys playing wheelchair basketball and singing in the choir. Away from school he enjoys watching rugby at Warrington Wolves and supports Liverpool FC.

Dillon was joined by his parents Gail and Dave and he attends Hebden Green Special School in Winsford and his favourite subject is science. Out of school Dillon enjoys playing games on his Wii and playing with his LEGO and anything to do with animals and pets.

Both boys and their families are looking forward to the independence their new chairs will allow.

After the presentation of the chairs, we enjoyed another superb banquet provided by Pat and her restaurant staff. Members and friends took part in a quiz, enjoyed a raffle, resulting in a total of just over £1,000 raised on the night – this included a donation from Pat and the Fortune Palace team. Thank you to all our supporters for helping us to raise this fantastic amount, we are all very grateful!

Photo shows back left to right – Helsby Golf Club President Jim Potter, Captain Neil Johnson, Dillon's parents Gail and Dave, PWA committee. Matthew's foster mum Michelle.Front left to right – Matilda Healey, Dillon Healey, Matthew Beautyman