Helsby Golf Club
Powered Wheelchair Appeal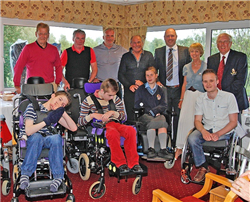 Registered Charity Number: 1118510

Each year thousands of children are born with disabilities that severely affect their mobility, causing very real limits on their quality of life. This can be dramatically improved by the use of modern and sophisticated powered wheelchairs, giving the freedom and mobility to gain a degree of independence. Unfortunately, the state does not offer most children the type of chair that they really need, and the cost is often out of the reach of their families.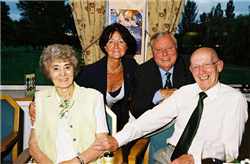 Helsby Golf Club Powered Wheelchair Appeal exists solely to raise funds for this cause. The club's efforts on this front have been led since 1982 by Bert Dyson – awarded an MBE for his services to children – and are referred to in Peter Alliss's autobiography: "Over the years there has been tremendous support from a number of golf clubs up and down the UK and in Ireland … but one is very special. It's Helsby Golf Club in Cheshire."

Contact PWA Secretary Penny Ainsworth via email at poweredwheelchairappeal@gmail.com
WHAT WE HAVE DONE SO FAR ......
| | |
| --- | --- |
| Funds raised so far | £1.2 million |
| Powered wheelchairs donated | 408 |
MAKE A DONATION or HELP FUNDRAISE
You can make a personal donation or even set up your own fundraising page in support of the Charity via Virgin MoneyGiving, which deals with the admin involved in collecting any applicable Gift Aid to provide additional income. However, we are more than happy to receive donations via whatever means suits you.

Just click on the image to enter Virgin MoneyGiving.
POWERED WHEELCHAIR COMMITTEE
| | |
| --- | --- |
| Chairman | Steve Cunniffe |
| Secretary | Penny Ainsworth |
| Treasurer | Barbara Prince |
| Trustees | Bert Dyson MBE |
| | Sheila Fenwick |
| | Karen Fozard |
| | Kathryn Hoather |
| | Viv Nagle |
| | Howard Pay |
| | Roddy Snedden |
| | Alex Walters |
**STOP PRESS** - 2019 FUNDRAISING CHALLENGE - WE DID IT!!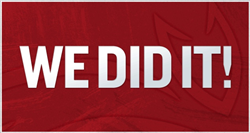 In 2019, we worked hard to raise sufficient funds to be able to present our 400th powered wheelchair at a very special Glitz & Glamour evening which was held at Chester Racecourse on 23rd November 2019.

To enable that, we needed to raise £55,000 and we are delighted to report that we smashed that target and during 2019 we raised a staggering £66,000!!

We want to pass on enormous thanks to our supporters who helped us achieve such a fantastic amount - We could not have done it without you!
CHARITY INFORMATION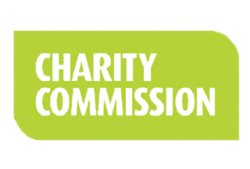 Helsby Golf Club Powered Wheelchair Appeal completed its registration as a charity – number 1118150 – with the Charity Commission in March 2007.
Although the Appeal has been very successful over many years, the new Charities Act came into effect in November 2006 requiring any organisation raising funds of £5,000 or more to be registered with the Charity Commission. Registration also enables the charity to recover income tax on many of the donations received from supporters.
Helsby Golf Club, as far as clubs affiliated to the
Peter Alliss Masters
powered wheelchair crusade (PAM) are concerned, became the first to be registered as a charity in its own right. However, this in no way affects its relationship with the PAM charity, of which it continues to be a full member.